About Skate Camp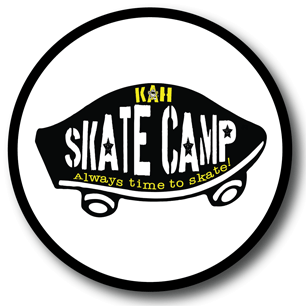 Skate Camp is an ACA accredited camp geared for kids who eat, sleep and breathe skateboarding! Skate Camp offers eight weeks of skateboarding and instruction. The camp provides a challenging environment for beginner, intermediate, and advanced skaters (ages 7 to 12 years). Because we do A LOT of skateboarding throughout the day, we encourage campers to have some ability to skate before coming to our camp! However, as long as your camper has a strong desire to be on their skateboard all week long, we would be happy to have them join our program! Experienced counselors are dedicated to developing the skills of young skaters and a love of the sport.
Tuition
$335 per week
Refund/Schedule Change Policy: All payments are always 100% Refundable (all payments means ALL payments; registration fees, deposits, EVERYTHING). You can change or cancel your child's schedule at any time, although we prefer at least a week's notice of changes so campers on our waitlist have a chance to come to camp!
What to bring to Camp:
Mask
Helmet
Pads
Skateboard
Lunch
Bathing Suit
Towel
Waterbottle
**Please bring your own skateboard, pads, and helmet!**
Hours
8:30am - 4:30pm
To try to limit numbers of people in the area, we are staggering pick up and drop off times for the different camps. Also, because we do not have the space available, we cannot provide before and after care as of now. We may be able to offer this if space becomes available.
Everyday Campers Will Need:
MASK
Sunscreen (THEIR OWN LABELED)
Lunch EVERYDAY
Bathing Suit
Towel
Close-Toed Shoes
$$$(optional)
Flip-flops(optional)
*For Caving Only: long pants&long sleeve shirt, CLOSE-TOED SHOES, lunch, plastic shopping bag for muddy clothes, change of clothes
Skate Camp Directors and Contact Information
Will and Lillie are our Skate Camp Directors for this summer! Will is a long-time Skate Camper and Skate Camp staff member, and Lillie will be returning for her 2nd Summer with Skate camp, but has been with KAH since she was a kid!
Their emails are below, and their cell phone numbers will be available through email and upon arrival! You can also call the main office for their numbers as well! 301-933-6888
Will Sickels
will@kidsafterhours.com
Lillie
lillie@kidsafterhours.com
---
Skate Lessons
KAH is offering skateboard lessons to a limited number of skaters ages 7-12 for both new and experienced skaters!
Saturdays: April 24, May 1st, May 8th, and May 15th
Sessions will be divided into two separate groups:
"Intro to Skateboarding" group will take place from 11am-12:30pm. This is a GREAT opportunity for BRAND NEW skateboarders to learn the absolute basics, in a fun and controlled environment!
"Experienced" group will take place from 1pm-3pm. This is an opportunity for skaters who have been doing it for a while, but want to take their skating to the next level!!!
Sessions will take place at the KAH Shred House (our private skate facility) at 15131 Southlawn Rockville, MD
Our spaces are limited to 12 skaters per group, in an effort to operate safely and securely.
The cost for all 4 sessions is $90
By signing up, you are committing to ALL 4 SATURDAYS (learning to skate is a marathon, not a sprint!)
Skaters must be prepared with a skateboard, helmet, water bottle, and face mask (elbow and knee pads are HIGHLY recommended)
We do have high-quality skateboards available for purchase, which cost $75 (WAY below market price, that's just how we roll!)
CLICK HERE TO REGISTER FOR SKATE LESSONS - on thy My Account page, click Afterschool Activities
PLEASE reach out to me (Will) at 240-687-6218 or will@kidsafterhours.com if you have any questions about our Skate Lessons!
Our Locations
Click here for details on all of our Skate Camp locations:
Garrett Park ES (Kensington area)
Forest Knolls ES (Silver Spring area)
Barnsley ES (Rockville area)