About KAH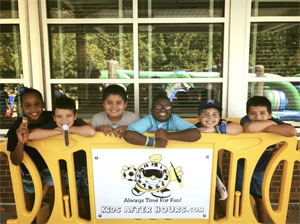 What is Kids After Hours?
Kids After Hours is a Before and After School Care program (plus, we have camps during the summer too!) Our programs are run in 26 locations throughout Montgomery County & Anne Arundel County Maryland! We provide kids with as much fun as possible through activities, games, clubs, and so much more!
When do we provide care?
Our program is run from 7am until the start of school, and from school dismissal until 6:30pm!
Who are the staff?
Our staff is a dedicated bunch! Almost half of our directors, and many of our staff came to us as kids, so we must be doing something right! Our staff are given background checks and are highly trained, going above and beyond Maryland State requirements!
Please give us a call! 301-933-6888
Kids After Hours is always looking to help! Whether that's helping families with care, tuition, or even helping the school by supporting their P.T.A.! Please give us a call or email if there is anything we can do to help! We are always happy to hear from you! Here's my email: bob@kidsafterhours.com.