School Year Programs at Highland View E.S.
Meet Jay Pilla, our Center Director
Hi I'm Jay, the director at Highland View Elementary! I went to Kids After Hours at Forest Knolls when I was a kid, and I have loved it ever since! I love coming to work everyday and having a chance to be a mentor and role model to the kids. I always wanted a career where I can help people, and I love that I can do that every day in my center. My favorite KAH activity is playing chess. I love being outside, playing soccer, and I am always down to toss a frisbee now and again. I love being able to meet new families, so feel free to come say "hi!" whenever you can!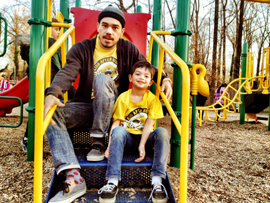 9010 Providence Avenue
Silver Spring, Maryland 20901
Center Phone: 240.338.0718
KAH Office: 301.933.6888
Morning Hours: 7:00am - Start of school
Afternoon Hours: School dismissal - 6:30pm
For Schedule Changes Email: highlandview@kidsafterhours.com
Email your Director Jay Pilla directly at: Jay@kidsafterhours.com