School Year Program at Garrett Park E.S.
Meet Paul Fuller and Chris Quinn, our Center Directors
My name is Paul Fuller and I am a director at Garrett Park Kids after Hours. I grew up in the KAH family and came to Kids After Hours in 3rd and 4th grade. I have enjoyed working with Kids After Hours since 2001. I graduated from Springbrook High School and earned a degree in Exercise Physiology from the Marshall University. During the summer, I love directing our Camp KAH at Garrett Park. I was born in Washington D.C. and grew up in the D.C. Metro Area. During my off-time, I like to watch sports and keep huge fish tanks.
Hello, my name is Chris Quinn and I am also a center director for KAH at Garrett Park Elementary school. I have been working with kids since I was 16 years old when I first volunteered at a summer camp. I fell in love with the camp atmosphere and that's when I decided I want to work with kids and play for a living. I believe in being positive and trying to teach the kids to be caring to each other every day! My favorite thing during the school year is all of the awesome activities we get to do. During summer camp, my favorite thing is the inflatable water slides that we have! On my off time I play basketball during the winter and when it is nice outside I enjoy playing a round of golf.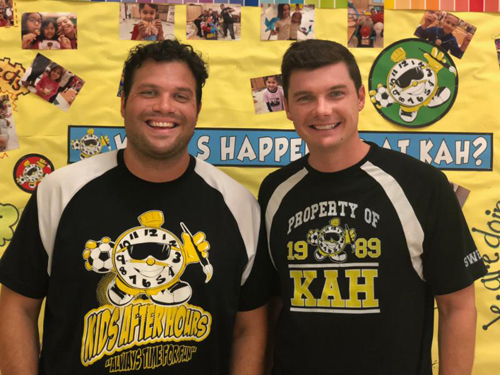 4810 Oxford St
Kensington, MD 20895
Center Phone: 240.338.1898
KAH Office: 301.933.6888
Morning Hours: 7:00am - Start of school
Afternoon Hours: School dismissal - 6:30pm
For Schedule Changes Email: garrettpark@kidsafterhours.com
Email your Director Paul Fuller directly at: paul@kidsafterhours.com or Chris Quinn at: chrisq@kidsafterhours.com