School Year Program at Forest Knolls E.S.
Meet Chris Nolan, our Center Director
Hello! My name is Chris Nolan. I grew up in Fairfax County, VA and graduated from Lenoir Rhyne College with a Psychology degree and a Business and Sociology minor. I have been working with Kids After Hours for the over 24 years. My home away from home has been at Forest Knolls Elementary throughout these years. I am so thankful for the wonderful relationships with children and families that have come into my life and I have been fortunate enough to call Forest Knolls and the community my second family. I am the father of 5 beautiful children ages 9 to 19, all unique and wonderful in their own way. People who know me... know I love Mountain Dew, love to be silly, and love to play competitive soccer. If I'm not out watching one of my kids playing soccer or basketball, I enjoy just relaxing and watching a movie or enjoying the outdoors.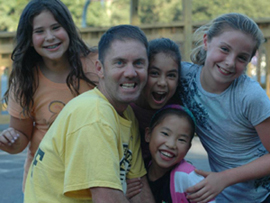 10830 Eastwood Avenue
Silver Spring, Maryland 20901
Center Phone: 240.338.1329
KAH Office: 301.933.6888
Morning Hours: 7:00am - Start of school
Afternoon Hours: School dismissal - 6:30pm
For Schedule Changes Email: forestknolls@kidsafterhours.com
Email your Director Chris Nolan directly at: chris@kidsafterhours.com