School Year Program at Burtonsville E.S.
Meet Dege Yigan-Kohoe, our Center Director
Hello! my name is Nadege , but you can call me Dege for short. This will be my second year working for KAH and I cannot be more excited. I was born in West Africa in a country called Togo. This is where I get my 3 languanges from! I went to Gaithersburg High school and graduated from Frostburg State University with my bachelors in Psychology. I played tennis the last two years of my high school career and the first year of my college career. My favorite thing to do when I'm not having tons of fun with my KAH friends is take pictures on my Canon t6i, Carmen. I am looking forward to a great school year. If you have more questions don't be afraid to ask!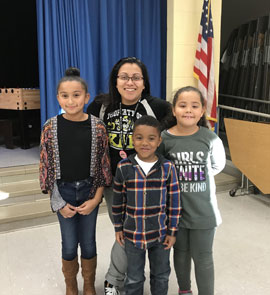 15516 Old Columbia Pike
Burtonsville, Maryland 20866
Center Phone: 240.338.1293
KAH Office: 301.933.6888
Morning Hours: 7:00am - Start of school
Afternoon Hours: School dismissal - 6:30pm
For Schedule Changes Email: burtonsville@kidsafterhours.com
Email your Director Dege directly at: dege@kidsafterhours.com